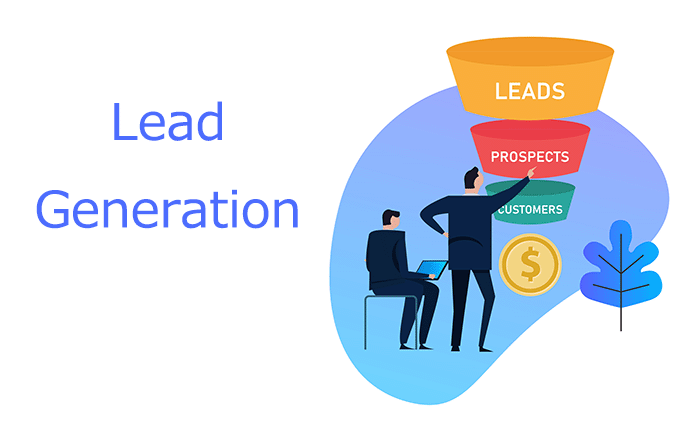 Effective Lead Generation Strategies
Last updated: Augst, 2023

 Lead generation is the process of identifying potential customers, also known as "prospects," who may be interested in purchasing a company's products or services in the future. In this article, we will provide an overview of specific measures to generate leads, along with their benefits, and real-world examples.

What is Lead Generation?
Lead generation refers to the process of finding potential customers who have shown interest in a company's product or service.

The word "lead" means "beginning," "clue," or "opportunity."

Companies obtain lead information through various channels such as phone calls, emails, social media, and events. The information gathered typically includes the company's name, contact name, department, job title, phone number, email address, and other business card information.


Objectives of Lead Generation
The objective of lead generation is, of course, to acquire new business and increase the number of customers.
In the past, new sales activities consisted of making sales calls to a list of potential companies, and once an appointment was made, visiting the company in person to conduct interviews and provide information to close the deal. However, this approach was not efficient because it involved approaching companies without knowing whether or not they were interested in the company.
In recent years, advances in digital technology, including the internet and various marketing tools, have changed these sales activities. To conduct sales activities more efficiently, it has become more common to obtain the contact information of leads who are interested in the company, and then contact them by email or phone first to gauge their interest and find out the target for a sales approach.
In some cases, before handing a lead to a salesperson, the company may conduct activities to increase interest in the company by providing information to the lead via email, etc. This is known as lead nurturing. Lead nurturing will be explained in more detail later.
Particularly in recent years, the COVID-19 pandemic has made it difficult to conduct business meetings or face-to-face sales activities triggered by exhibitions, or to make sales phone calls to the workplace of the person being approached, as calls are often not connected. Online lead generation is becoming increasingly important in order to initiate sales approaches via email first.

Lead generation is one of the key steps to deal generation
Comparing Effective Lead Generation Methods: Online vs. Offline
Effective methods for lead generation can be divided into two main categories: offline and online methods that utilize web marketing techniques and other technologies.
These methods differ in terms of the ease of lead generation and the ease of approaching (targeting) the prospects that the company is trying to target. A simple comparison table is shown below:

Offline Lead Generation Measures:



Online Lead Generation Measures: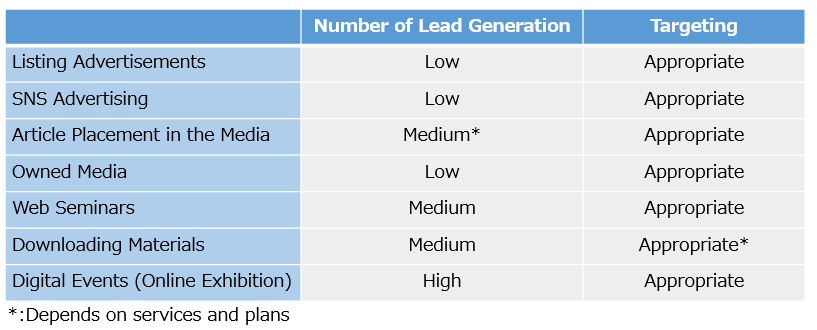 Offline Lead Generation Strategies
Let's start with offline lead generation strategies and examine their characteristics one by one.
Exhibitions:
| | |
| --- | --- |
| At exhibitions, multiple companies set up their own booths and promote their products in person, generating leads by exchanging business cards and conducting questionnaires with interested companies. Some companies prefer to visit exhibitions to see multiple products or make contact with multiple companies at once, rather than gathering information online. | |
Seminars (in-person):
Seminars provide lectures on the use of products and services, related industry and market trends, and solutions to the issues that companies face. As with exhibitions, business cards and contact information can be exchanged on the spot.
A question-and-answer session is also provided, where concerns about products, services, or companies can be addressed. However, since the time and location are fixed, there is a possibility of lost opportunities.
Direct mail (DM):
| | |
| --- | --- |
| DM is a method of sending information and materials by mail or fax. Postcards, brochures, sample products, etc. are mailed or faxed to a company's office or other location. If the recipient is interested, lead generation can be achieved by having the recipient reply to the phone number or email address provided in the mailing. | |
Telemarketing:
| | |
| --- | --- |
| Responding to a call from the recipient (inbound) is called the inbound method, while calling the recipient from here is called the outbound method. Compared to face-to-face sales, it is characterized by shorter customer interactions. | |
Outdoor Advertising:
| | |
| --- | --- |
| Outdoor advertising displays the company name, product name, and contact information on billboards, signs, and buildings. The main feature of this type of advertising is that it is displayed in places where the public can see it for a certain period of time, so people can see it regardless of whether they are interested or not. The effectiveness of outdoor advertising is difficult to measure because it does not directly contact potential customers on the spot. | |
Transportation advertising:
This includes postings on buses, trains, cabs, subways, airplanes, stickers, digital signage, vehicle wrapping, and displays inside train stations.
Cab advertising is the only transportation advertising that operates 24 hours a day in Japan. It can narrow down the customer demographic to some extent, such as businesspeople and the elderly. As with outdoor advertising, the disadvantage is that it is difficult to measure the effectiveness.
Online Lead Generation Strategies
Online lead generation strategies are conducted via the Internet and have characteristics that make it easier to clearly identify their effectiveness compared to offline measures. Typical strategies include the following:
Listing Advertisements:
Listing advertisements are text advertisements that appear alongside search results on search engines such as Google and Yahoo. They are also called search-linked advertisements. Lead generation is achieved by directing visitors to a landing page (LP) or other page from a link in the search results. Because ads can be displayed that match the words searched for, it is easy to reach users who are interested in specific keywords, making it a representative method of online advertising.
SNS Advertising:
These are advertisements displayed on the timelines and feeds of social networking services (SNS) such as Twitter, Facebook, and Instagram. Lead generation is achieved by directing the user to an LP or other website from these advertisements. Facebook allows users to enter their region, age, gender, and other information as part of their profile, which can be used in Facebook ads to display ads targeted to the region, age, gender, and other information that matches the company's products and services.
Banner Ads:
Banner ads are advertisements that display banner images and videos on websites that have advertising space, such as web media. The advertiser is directed to the company's own LP, etc. linked from the banner. Some advertisements are displayed for a fixed period of time, while others are charged based on how many impressions they are displayed (impressions).
Article Placement in the Media:
This is a type of advertising in which your company, product, or service is introduced in the form of an article on the web media, also known as tie-up advertising. Compared to other types of advertising, this type of advertising is characterized by its ability to promote the company's products and services in a more natural way to the readers of the media. Some advertisements include a questionnaire along with the article, or display the article halfway through and ask the reader to enter profile information in order to read the rest of the article, thereby allowing for lead generation.
To distinguish between regular articles and article advertisements, article advertisements are generally labeled "PR" or "advertisement."
Owned Media:
This is a method of acquiring lead generation by managing one's own web media and guiding visitors to the publication of articles and downloading of materials within that media, rather than publishing articles by placing advertisements in external web media. Compared to external media, it is more difficult to attract readers, and it is also difficult to consistently produce quality content that attracts readers.
Downloading Materials:
This is a method of acquiring leads by posting information about the company's products, services, and white papers on web media, etc., and having readers enter information in exchange for downloading the materials. This measure is expected to be effective when the company has useful materials that can be easily downloaded. Depending on the media, it may be possible to guarantee the number of lead generation or lead attributes, or to request the creation of a white paper.
Web Seminars:
These are seminars delivered via the internet using common online conferencing tools such as Zoom or dedicated delivery platforms. Also called a webinar.
Lead generation can be achieved by having participants enter information when registering to view the webinar. Unlike physical seminars, there are no geographical limitations or venue capacity issues, so if used properly, they can attract a large number of potential customers. Some tools can measure the viewing time of each viewer, download status of related materials, and other behavioral data, while others provide questionnaires and QA functions to answer questions from viewers during the distribution.
Digital Events (Online Exhibition):
This is an online event where participants can access an event page on the web, set up booths of various companies, view and obtain product materials, watch lectures, and do all this just like in a physical exhibition. Lead generation is also conducted here by having participants enter information when they register to attend.
Online exhibitions hosted by specialized media attract a highly interested demographic in the subject matter, making it possible to obtain lead generation tailored to the company's products. Another major advantage of online exhibitions is that, compared to physical exhibitions, they require less time and human resources to exhibit, and lead generation can be done at a lower cost.
Four Key Points for Successful Online Lead Generation
As mentioned above, lead generation is a measure for both online and offline. Here are four points to keep in mind when conducting lead generation efforts online.
Point 1: Defining Objectives and Identifying Targets
For example, when lead generation is conducted through web media, the quality of leads that can be obtained will vary depending on the media, as the age range, job title, industry, and type of occupation of the readers will differ. First of all, in order to connect your company to orders for your services or products, you should first sort out which demographic you should appeal to and what kind of message will resonate with your target audience, and then select the appropriate media and necessary methods.
In order to understand the insights of potential customers, it is essential to collect information on customers. To this end, it is important to collaborate with sales representatives who communicate with customers on a daily basis and share information on customer issues, what they want to achieve, and the reasons why they are selecting your company.
Point 2: Tailoring Content for Target Audiences
Content is essential for online lead generation. The general definition of a potential customer depends on the degree to which the individual is interested in your company and the degree to which they are aware of issues that can be solved by your products. For this reason, it is essential to prepare appropriate content according to the user's prerequisite knowledge, level of interest, and phase of consideration.
For example, if the user is already highly interested in the product and has already collected information, content such as comparisons with competing products and case studies that encourage the introduction of the product may be necessary.
On the other hand, if the user does not yet have much knowledge of the company's related products or awareness of business issues, content such as a column on market trends that raises awareness of the issues may be necessary.
It is effective to prepare content tailored to each target audience and clarify the direction of the content by differentiating the copy to be used in the advertising text for online measures, etc.
【Content Example】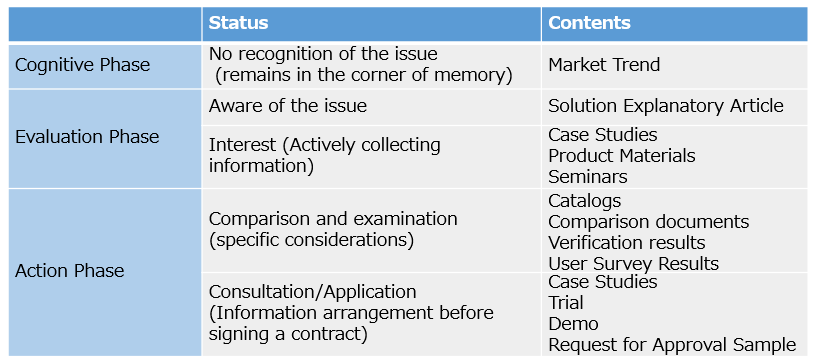 Point 3: Setting Up Follow-up Actions for Captured Leads
After obtaining a lead through online lead generation, it does not always lead to a business meeting or deal. If a sales representative suddenly approaches a lead with a low level of interest, the lead may not lead to a business meeting immediately, and the sales activity may end up being a waste of time.

In order to prevent such a situation, in recent years, inside sales representatives (inside sales representatives) have been conducting interviews with lead generation by phone, providing useful content information to users, and sending information on web seminars. This is a method to increase the level of interest in the lead and to connect the lead to a salesperson.

In this way, it is essential to design in advance what kind of emails and follow-up activities will be used to gradually increase interest in your company after lead generation.


Point 4: Designing Continuous Nurturing Scenarios
This is also related to point 3 above. Although lead generation does not necessarily lead to an immediate business meeting, it may lead to a business meeting after a few months of consideration. In anticipation of this, it is important to design long-term actions after lead generation.
To this end, it is necessary to continuously connect with lead generation and send them useful information to increase their interest in your company. This is called "lead nurturing," meaning nurturing leads.
In lead nurturing efforts, the level of interest in the company is determined by the actions taken by the lead, for example, whether the lead opened the email magazine sent by the company or downloaded materials from a website to which the lead was directed from the email magazine, and the lead is classified.In sales and marketing activities, leads are often categorized as
Opportunities...prospects with specific deal information

Sales Leads...prospects that can be approached for sales

Hot Leads...good prospects with a high likelihood of closing a deal

Warm lead...A potential customer who is likely to be converted into a deal within a certain period of time

Cold leads...Prospects that are undecided but may be converted into a deal in the future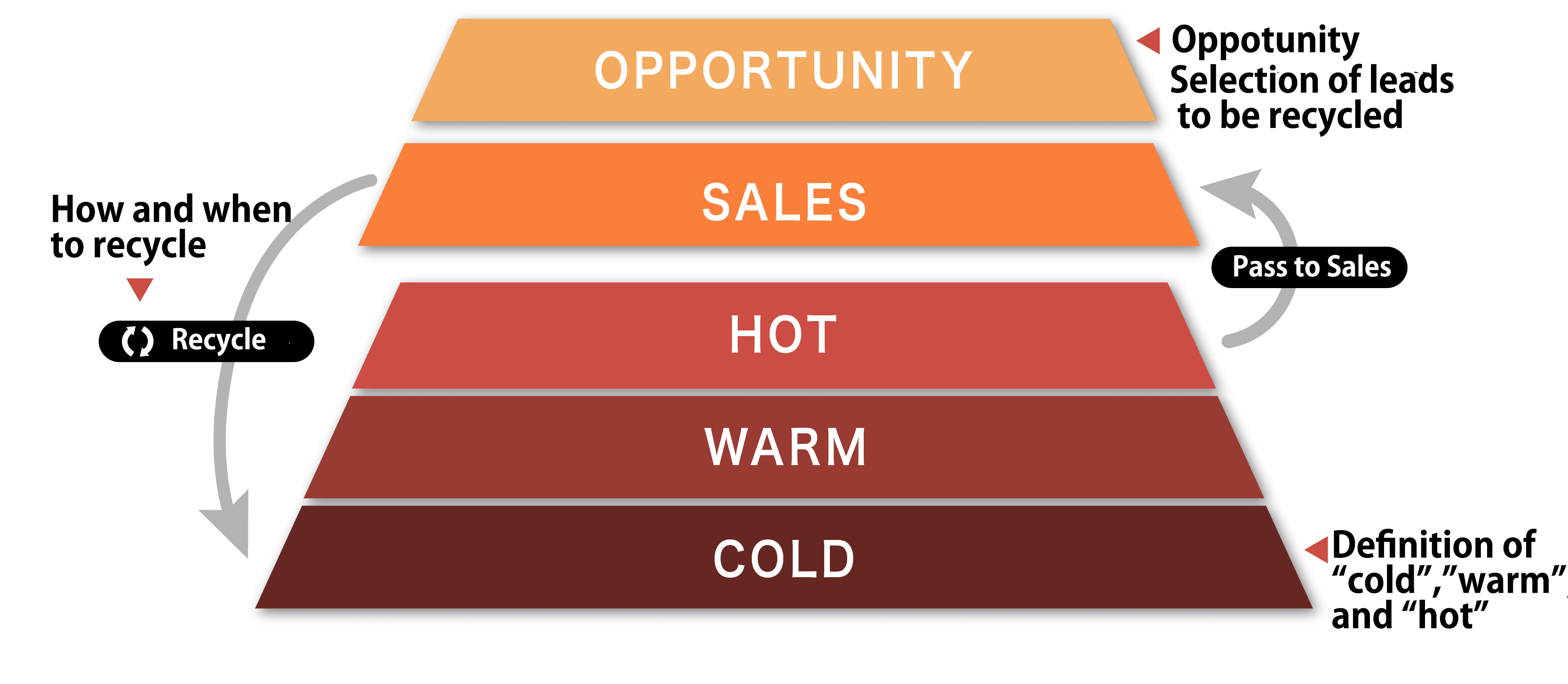 The key to lead nurturing practice is the need to determine, for example, what kind of information should be sent next to a lead who has obtained certain information in order to elicit a better response. It is important to analyze the process that led to the purchase (customer journey) by referring to the company's existing customers and then prepare the necessary content for the company.
However, managing each lead individually to understand their actions and determine the next approach is challenging. This is why marketing automation tools (MA) have gained popularity recently, as they enable centralized management of such information and improve operational efficiency.
Furthermore, since the criteria for classifying leads and the timing for transferring them to sales differ from one company to another, it will be necessary to fine-tune the system by observing the response of leads in daily marketing activities.
Real-life Case Studies: Successful Online Lead Generation Examples
ITmedia provides a lead generation service to support online lead acquisition and has a database of over 1 million members who gather at B2B-specialized media outlets. Here are some examples of companies that have used this service.
Case Study 1: Vector Japan Co., Ltd.
Background/Issues:
Vector Japan provides solutions to support the development of embedded systems, mainly for the automotive industry. In recent years, Vector Japan has also been providing solutions for other fields, but the company was having a hard time finding customers in other industries because it was not yet well known.
Introduction Measures:
Therefore, the company decided to use an external lead generation service to strengthen inside sales and approach sales from the leads generated online. The service chosen was "TechFactory," an information media for the manufacturing industry among ITmedia's lead generation services.
Effectiveness:
After commissioning ITmedia to produce a white paper and posting it on the media site, 50 downloads were received within 5 days, and the lead generation was very fast and cost-effective. The speed and cost-effectiveness of the project were highly evaluated. Furthermore, in 2020, approximately 30% of the lead generation was converted into deals, which is a high achievement.
Case Study 2: Cyber Reason G.K.
Background/Issues:
Cyber Reason, a provider of endpoint security solutions centered on EDR (Endpoint Detection and Response), has been actively participating in offline seminars and exhibitions. However, these efforts were limited to the Tokyo area, and the company felt that it was unable to gain nationwide recognition.
Introduction of the new measures:
In order to reach out to a wider audience nationwide, Cyber Reason implemented a lead generation strategy using ITmedia's "Lead Generation Service."
Effectiveness:
"The lead generation from ITmedia is easy to screen, and the quality is very good," said the marketing manager of the company. The quality of the leads we get from ITmedia is very good. Compared to services provided by other companies, ITmedia's service is highly specialized and leads to more leads that lead to business negotiations.


Cost of Lead Acquisition and Lead Generation per Lead
How much does it cost to perform lead generation? This is difficult to say, as it varies from service to service and can range from a few thousand yen per lead to tens of thousands of yen per lead.
There is no common indicator as to which amount is appropriate for the cost per lead, and it depends on the sales when your company's product or service closes a deal. The important thing is to calculate the cost per lead (CPL) for both the various measures you are taking and the external lead generation services you are using and to compare them to each other to get a relative idea of what is appropriate for your company.
Conclusion
We have described the main methods for lead generation, as well as key points to consider when acquiring online leads. While online measures are currently the mainstream due to the trend toward digitalization, offline measures are still effective, depending on the industry and sector you are targeting. Please try to find a lead generation method with a high return on investment suited to your company through trial and error.